Celebrating 6th Anniversary with Us!
We are happy to announce that Just Smiles turns 6 years old! We have enjoyed serving our patients and are so appreciative of all the wonderful relationships we have established. We thank all of you for the support and trust, as we continue to grow and serve this community.
Over the last 6 years, there have been many changes and advancements in dentistry. At Just Smiles, we thrive to utilize the latest technologies to make dentistry more comfortable, durable, efficient and natural-looking for our patients. And our efforts are recognized and for the 2nd straight year awarded by OpenCare, who has selected JustSmiles as 2016 Top 10 Dental Clinic in Surrey, based on metrics such as patient care, comfort and satisfaction.
In this newsletter, we will celebrate our 6 year milestone by a series of events and announcements! First, Dr. Claire Wang has returned to the office after her mat leave! Dr. Wang's days are Mondays, Wednesdays, Thursdays and one Saturday a month. We would also like to welcome Dr. Junho Kim to our dental team! He is in the office on Tuesdays, Fridays and one Saturday a month. As part of our summer promo, be sure to enter your name at the end of your hygiene appointment for a chance to win a FREE In-Office Zoom Laser Whitening! In addition, due to a popular demand, we have extended our Invisalign promotions till the end of August. If you have ever thought about straightening your teeth, and would like to know if Invialign is right for you, book your complimentary consultation today! (Click here to book your appointment). Another exciting event is that we have introduced a Cavity Free Club for our young patients! When you have a moment, be sure to check out our new 3D virtual tour of the clinic on our website, as well as the services provided, gallery and patient testimonials. Read on to learn more about our summer promos and some oral hygiene tips! Have a great month everyone!
Sincerely,
Just Smiles Dental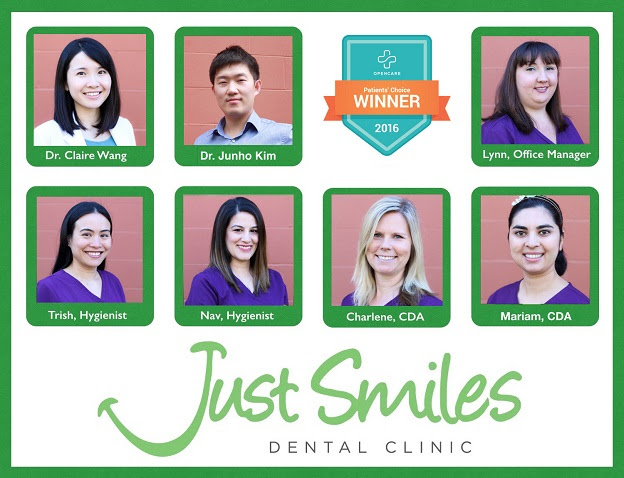 Introducing Dr. Junho Kim!
We are happy and proud to welcome Dr. Junho Kim joining Just Smiles! 🙂
Dr. Kim was born in South Korea and moved to Canada at the age of 11 with his family. After attending Dalhousie University for three years studying biology, Dr. Kim received an early acceptance and proceeded to complete the dentistry program at University of Western Ontario.
Dr. Kim is a skillful general dentist and provides a wide variety of dental treatments for patients of all ages. He is easy-going and likes to keep the dental office a fun and friendly environment. He comes from a family of dentists (father and sister) and understands the importance of treating each patient as if they were his family.
In his free time, Dr. Kim enjoys outdoor activities and sports including tennis and badminton. Besides English, Dr. Kim also speaks Korean.