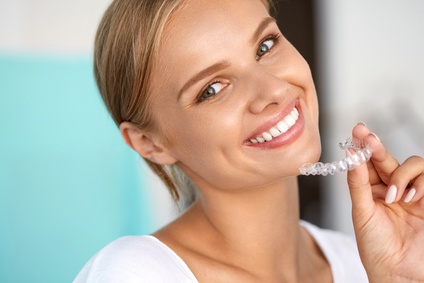 The Clear Way to Straighten Your Teeth at Any Age!
Straightening your teeth can give you the confidence to smile more and enjoy a more positive self-image. Furthermore, studies clearly demonstrate that straight teeth are more resistant to gum disease.
What is Invisalign?
Invisalign is the invisible way to straighten teeth without braces. Invisalign uses a series of clear, removable aligners to gradually straighten teeth without metal or wires. Invisalign® aligners must be worn around the clock for most effective results, but can also be removed to eat, drink, brush your teeth, or for special occasions. Best of all, the most obvious advantage of Invisalign® invisible braces is their invisible, discreet appearance, so you can retain confidence in your smile during the entire process.
How does Invisalign work?
Invisalign uses 3-D computer imaging technology to depict the complete treatment plan from the initial position to the final desired position from which a series of custom-made, clear "aligners" are produced. Each "aligner" moves teeth incrementally and is worn for about one week, then is replaced by the next in the series until the final position is achieved.
What are the primary benefits of Invisalign?
Invisalign is clear. You can straighten your teeth without anyone knowing.
Invisalign is removable. Unlike braces, you can eat and drink what you want during treatment. You can also brush and floss normally to maintain good oral hygiene.
Invisalign is comfortable. There are no metal brackets or wires as with braces to cause mouth irritation, and no metal or wires means you spend less time in the doctor's chair getting adjustments.
Invisalign allows you to view your own virtual treatment plan before you start so you can see how your straight teeth will look when your treatment is complete.
Contact our dental office today to schedule your free Invisalign consultation – 604-579-0117