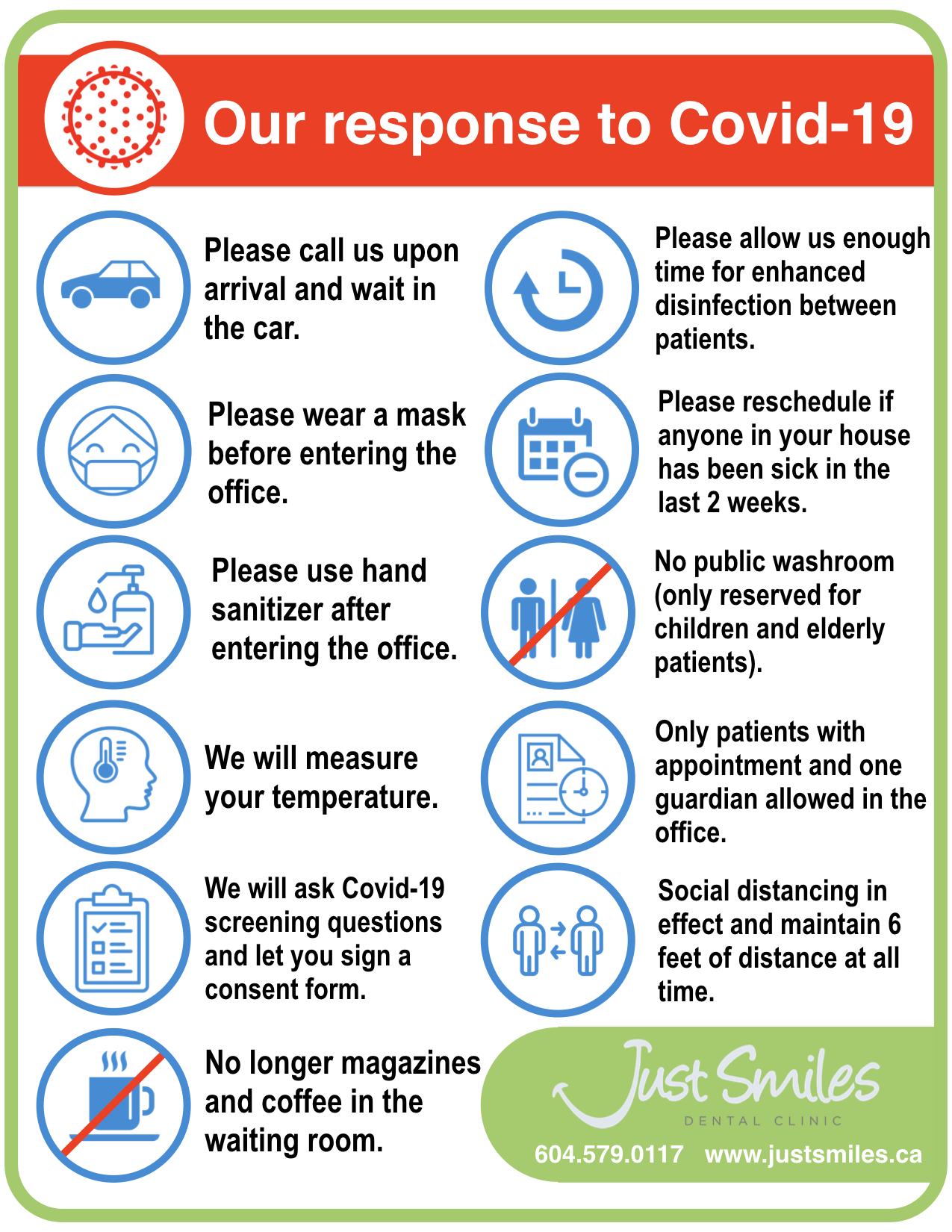 Dear our valued patients,
We sincerely hope this letter finds you and your family in good health! Our community has been through a lot over the last few months, and all of us are looking forward to resuming our normal habits and routines. As Premier Hogan has announced, mid-May is the start of the transition to phase 2 of the government's COVID-19 response. This includes the expansion of health care services, such as dentistry, under enhanced protocols.
We are glad to say that we will be booking patients starting on May 19 th . While many things have changed, one thing has remained the same: our commitment to your safety. We have been working hard during this closure in our preparation to reopen the clinic: from obtaining all the necessary Personal Protective Equipment (PPE), keeping on top of regulatory body's guideline, to implementing protocols to ensure our patients and staff's safety. This is intended to be a careful restart in keeping with the requirements of our "new normal." We will continue to offer patients consultations via Telephone, or via Virtual. For in-office visits, we will start with patients experiencing discomfort and require emergency or urgent care, and we will be gradually scheduling patients back in the same order as their last scheduled appointment. Due to the high demand, we may not be able to see you all right away and we kindly ask you to be patient, as we will be contacting you as soon as we can. Please also feel free to reach out to us if you have any questions or immediate concerns.
We have implement some measures and new protocol to help protect our patients and staff. For example:
We follow public health guidelines strictly and providing in-person visits for urgent visits at this time.
You must call ahead and book an appointment. It is essential that we space out our in-person appointments in space and time.
Our office will communicate with you beforehand to ask some screening questions

You must inform us if you have any signs/symptoms of possible COVID.
Most common symptoms: fever, dry cough, tiredness.
Less common symptoms: aches, pains, sore throat, diarrhea, red eyes, headache, loss of taste or smell, skin rash or discolouration of fingers/toes.
Serious symptoms: difficulty breathing or shortness of breath, chest pain or pressure, loss of speech or movement.

Please call us when you arrive and wait in the car. We will notify you when we are ready for you.
We kindly ask everyone to wear a mask entering our office even if you have no symptoms. The safety of our staff and patients are of utmost importance to us. (one mask per person is available for purchase at our cost).
Only patients with appointment and one guardian (will be screened as well) allowed in the office.
You will be offered hand sanitizer upon entry and we will measure your temperature with a touch-less thermometer.
You will also be asked to sign a consent form, which will be emailed to you prior to your appointment.
You may see that our waiting room will no longer offer magazines, coffee or children's toys, since those items are difficult to clean and disinfect.
Appointments will be managed to allow for social distancing between patients. This might mean you will be offered fewer options for scheduling your appointment.
We have installed air purifier with HEPA filters and all surfaces will be disinfected frequently.
All of our staff will be screened before reporting to work and temperature will be taken and recorded daily.
Thank you for your patience over this transitional phase. We look forward to seeing you again and are happy to answer any questions you may have about the steps we take to keep you, and every patient, safe in our practice. To make an appointment, please call our office at 604-579-0117 or visit our website at www.justsmiles.ca We value your trust and loyalty and look forward to welcoming back our patients,neighbours and friends.
Sincerely,
Dr. Claire Wang and Just Smiles Dental Team