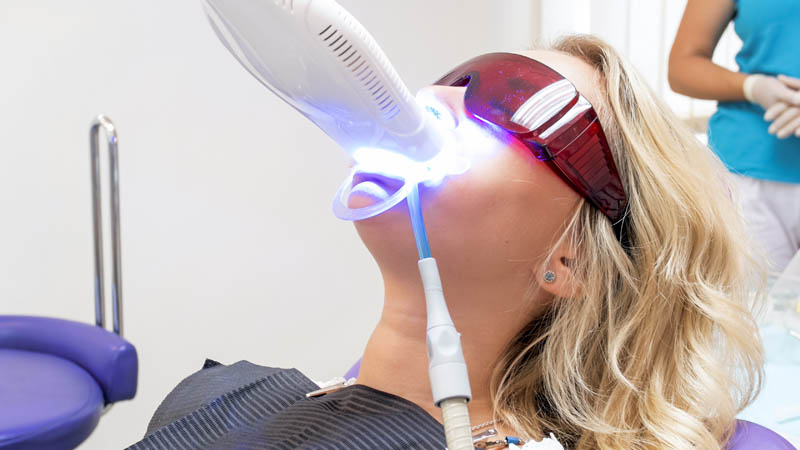 If your teeth have become stained from years of smoking, coffee or tea drinking, professional in-office Zoom tooth whitening is a great option to return your teeth back to their beautiful, natural colour. This procedure requires just one appointment and will have your teeth sparkling in approximately one hour! Teeth Whitening, or teeth bleaching, is a safe, popular and quick dental treatment that will give you long lasting results and enhance your smile. For teeth whitening, Dr. Claire Wang offers the in office Zoom! Whitening procedure, and also the Pola Day take home teeth whitening treatment, both of which are designed to deliver optimal results.
Is Zoom! Whitening for me?
Determining the teeth whitening regimen which is best for you will rely on many factors such as the current shade of your teeth, pre-existing restorations, and certain conditions such as teeth sensitivity. Teeth that are yellow in shade typically are quicker to respond than teeth that are grayish or brown. Some teeth may require a combination of take home tray and in office whitening in order to get an optimal result. If you have cracked chipped or severely discolored teeth, then other cosmetic procedures such as veneers may be considered after whitening
How does Zoom! Whitening work?
Zoom!, is a clinically proven whitening system, that uses a powerful light activated gel that oxidizes surface stains without damaging the structure of the tooth itself. After the tooth whitening gel is applied, a UV lamp is used to activate the whitening agent. The procedure is divided into 3 fifteen minute sessions with fresh gel applied at each session. The entire procedure usually takes about a little over an hour, and for patients that follow all recommended protocols, teeth can brighten up to eight shades lighter. Book your complimentary consultation today (with link) to see if Zoom! Whitening is right for you.