How fast summer passes and kids are back to school. Your child(ren) may have the new wardrobe, school supplies and sports equipment for the new school year. In this newsletter, we will provide some back-to-school tips for keeping your child's smile healthy! We will also announce our lucky winners who visited our Facebook Fan Page. At Just Smiles we wish everyone a smooth and rewarding school year ahead!
Sincerely,
Dr. Claire Wang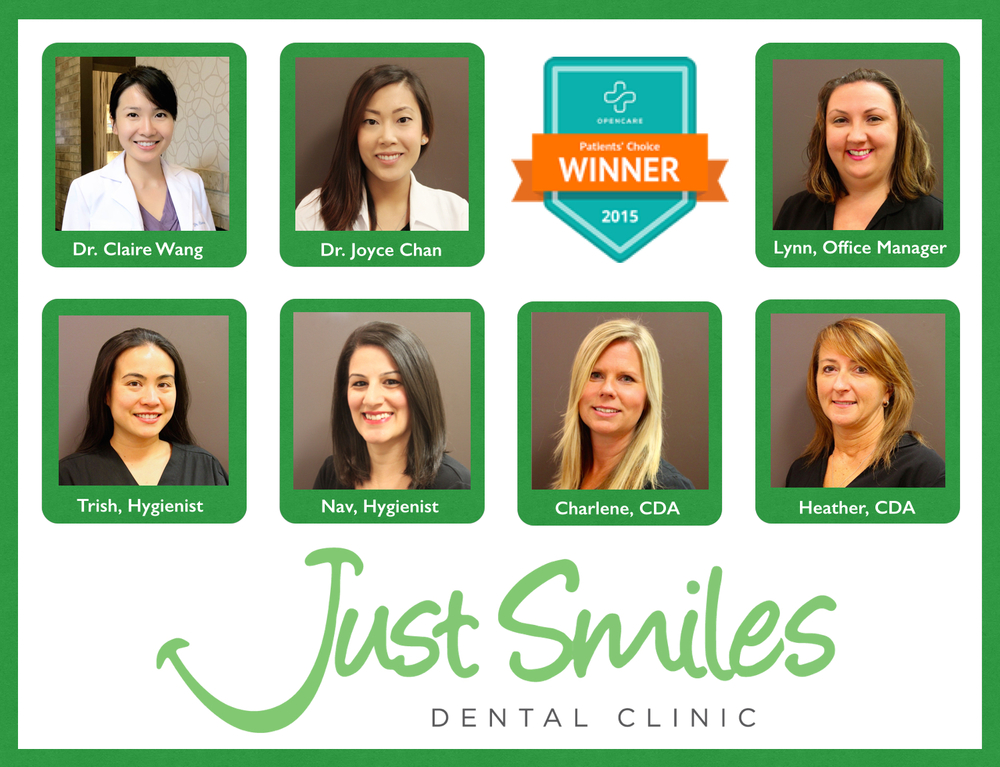 Start the school year off with a smile 🙂
Statistics from Canadian Dental Association say that tooth decay affects our children more than any other chronic infectious disease and 19 percent of children ages 2 to 19 years old have untreated tooth decay. Dental pain or disease can lead to difficulty in eating, speaking, playing and learning as well as millions of hours of missed school.
Your child's back-to-school checklist should include:
1) Get a Dental Checkup
Get your child off to a great start to the school year with a visit to the dentist! A dental examination is as important as immunizations and booster shots and should be a regular part of back-to-school preparations. Your child's dentist will do a thorough exam, probably take x-rays, perform a thorough cleaning, and make recommendations on any needed treatment such as filling cavities, extraction of wisdom teeth, or extraction of baby teeth that are not falling out fast enough. Your dentist may also recommend preventive measures such as fluoride treatment or the placement of sealants. Your dentist can answer questions you may have and provide your child with instruction on how to best take care of his or her smile.
2) Pack Healthy School Snacks
Diet plays an important role in all parts of health and of course, everything you eat goes past your teeth. Some snacks like chewy fruit snacks and chips can get stuck in the pits of teeth and expose them to sugar for long periods of time. Besides, picking healthy snacks can help feed your child's brain better too. If your child eats in the school cafeteria, review healthy, balanced food choices with him or her before the first day of school. Cut back on sugary foods and soft drinks. Check out cool new products that are easy to carry in backpacks and pockets, such as single-use flossers and mini toothbrushes!
Pack these for healthy school snack:
Celery
Fresh fruit
Carrot sticks and ranch dip
Cottage cheese
Yogurt – try drinkable yogurts or freeze the tube yogurt.
3) Check Oral Hygiene Supply and Routine
Regular brushing with fluoride toothpaste and flossing. Head for the dental care isle when you're out shopping for notebooks, binders and pencils. A new toothbrush should be changed every three months. If it's hard to remember when to change a brush, you could try to change it every time report cards come out. Ask us for your complimentary toothbrush next time you come in for a cleaning.
4) Wear a Mouthguard
Talk with your dentist about the right mouthguard for your child's sports. A properly fitted mouthguard can prevent serious and sometimes irreparable injury to the teeth, gums, and jaw. Your child should wear a mouthguard while participating in organized sports, PE classes or playground activities.
For more dental health tips, log on to Canadian Dental Association and browse through the Oral Health Topics list.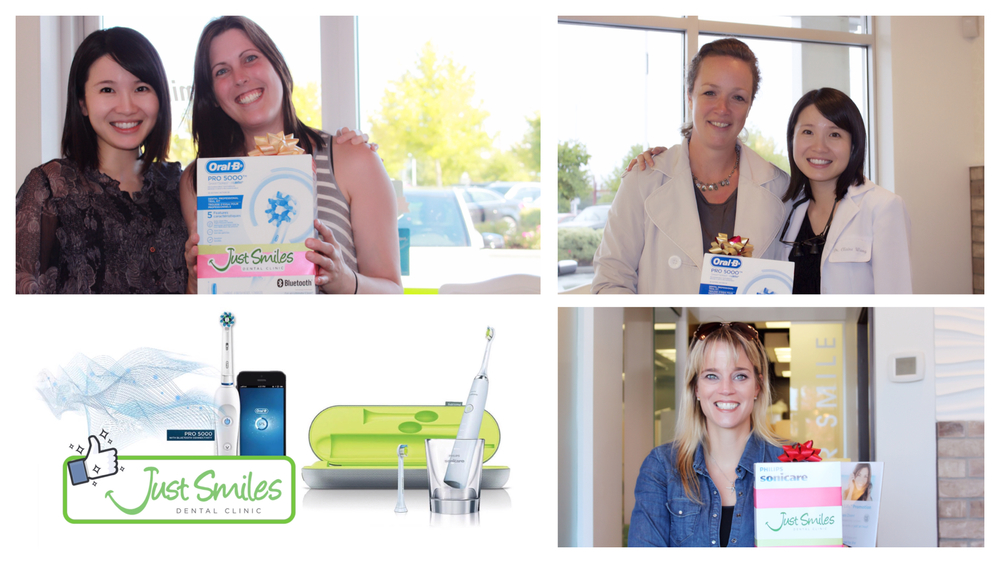 And the winners are…
In the last issue, we invited you to visit Just Smiles Facebook Page, where we share the latest dental news, our specials and much more, and to "Like" it to enter the lucky draw. Congratulations to Rachel, Sanne, and Reagan! We hope you enjoy the gifts.
Once again, we here at Just Smiles would just like to say how grateful we are for all of our patient family! if you have any other questions, we are happy to help. Call us at 604-579-0117 or send us an email anytime at jsdentalclinic@gmail.com.