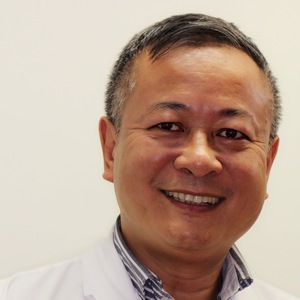 Dr. Zhong is an experienced and caring dentist who, upon graduation from dental school in 1985, completed a 5 year program in oral maxillofacial surgery at the West China University of Medical Sciences. He has performed a variety of surgeries, including cleft lip, cleft palate repair, oral, facial and neck tumour removal, and wisdom teeth extractions.
In 1994, Dr Zhong completed an anaesthesia fellowship at Oregon Health Sciences University, and subsequently moved to Canada. He has been practising as a general and family dentist in the Lower Mainland and Vancouver Island area for the last 12 years.
In his work, he focuses on oral surgery, including full mouth and wisdom teeth extractions. He has a special interest in root canal therapy and root canal re-treatment. Dr. Zhong has been a member of Fraser Valley Dental Society for several years and regularly attends continuing education courses to stay on top of the current knowledge.